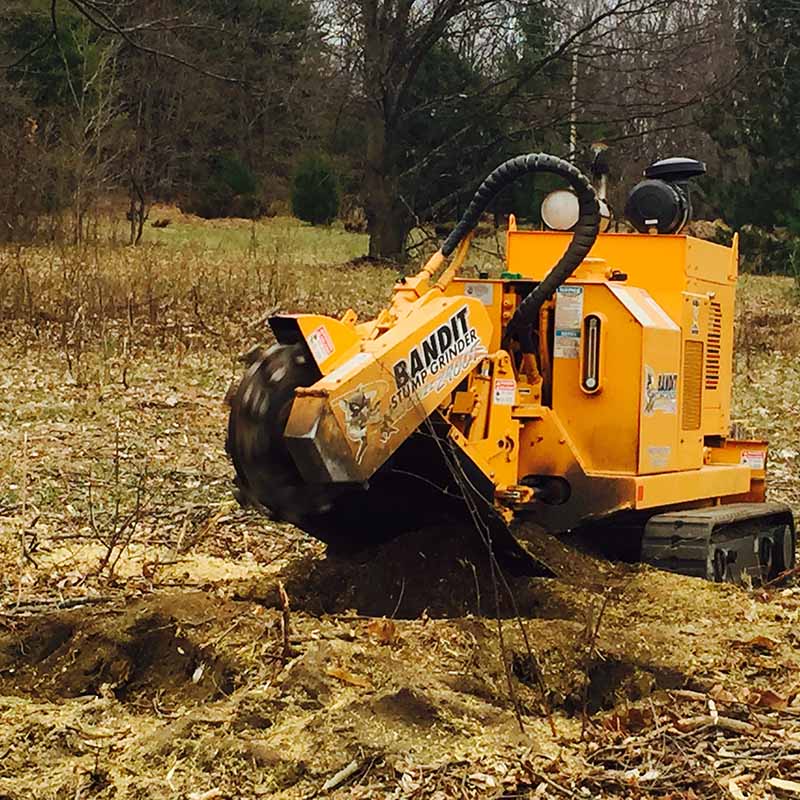 STUMP GRINDING
We definitely make it easy. Our trained stump grinding crews follow behind the tree crews and make those stumps disappear. We mobilize utility location services for underground utilities to be marked and flagged. The stump crew will thoroughly grind out your stump, clean up the mess, and restore the area with fresh topsoil and grass seed if needed. From large tree removals to completely clean and restored landscape, we got you covered.
If you chose to remove your stumps after your tree removal, we have you covered! Normally, we include all the prices for stump removal, clean up and topsoil replacement as separate line items right in our tree removal proposal. With all the information in one proposal, our customers can get a clear idea of the scope of the work and costs. Stump grinding is normally completed a separate day following your tree removals because we use a different, specific piece of equipment.
Our trained technician will arrive on site with the proper equipment to remove your stump safely and quickly. Our lawn friendly equipment can make small work of large stumps. When our certified arborist personalizes your job proposal, we will ask for information such as: What are your plans for this area in your yard following the stump removal? We make sure we grind to a depth that meets our customers' needs. After grinding, we clean up and haul the shavings mess that is left from the stump. The final step of the process is to replace the stump site with a fresh application of topsoil.
Most of our customers want stump grinding to be completed after a tree removal, but don't think of what's included in the whole process. No worries, we have that covered! Parshall Tree Care makes the whole process seamless and very easy for you.
Because we will always cut a tree's stump as close to the ground as possible, grinding the stump is optional.
Do not assume that a new tree can be planted in the same spot after the stump is gone – there will be some underground roots left that are not removable.
Our stump grinding machine can grind up to 18 inches below grade.
Upon request, we will haul away the grindings, back fill the hole with top soil and seed the area for you.
FREQUENTLY ASKED QUESTIONS
LET'S TALK TREES
We would love to chat about your trees and shrubs. Let us provide you with a free on-site estimate. Please fill out the form below and one of our specialists will contact you within 24 hours.
We take your personal information very seriously. We will not share any of the information you provide with any 3rd parties. Provided information will be used specifically to contact you in regards to Parshall Tree Care Experts opportunities.