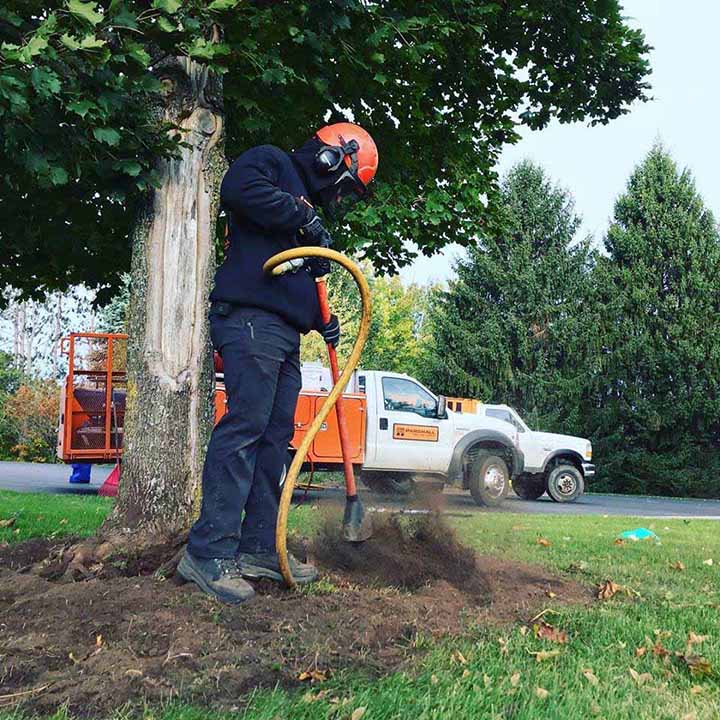 ROOT COLLAR EXCAVATION (RCX)
There are specific situations in the Urban Forest that we encounter when your Urban Forest Arborist will recommend a Root Collar Excavation (RCX) service. Many times when we are planning to help a declining tree the "root" of the problem is below the ground. 
Situations when a Root Collar Excavation (RCX) might be recommended:
The need to expose lower trunks and roots without damaging the tree.

Ability to complete a more thorough inspection and diagnosis. 

To apply soil amendments and enhancers below ground into the root system faster.

Decompacting hard urban soils.

Expose the buried root flare of the lower trunk on a tree that was planted too deep.

Complete proper root pruning of girdling roots that will harm the tree.
Mulching:
Mulching urban forest trees is one of the most overlooked tree care services or completed incorrectly by the unknowing homeowner and landscaper that we encounter. Your Urban Forest Arborist will provide recommendations for the trees on your site if proper mulching would be beneficial or applicable.
Problems caused by improper mulching and what to look for:
Mulch touching the trunk of the tree.

Volcano-shaped mulch rings.

Trunk and root decay.

A decline in the upper canopy (dieback).

Girdling and adventitious rooting.

Herbicide damage.

Mower and string trimmer damage to the lower trunk.
Benefits of proper mulching and what to look for:
No mulch in contact with the trunk.

Level mulch rings with 2-4" depth of mulch evenly applied.

Dry healthy lower trunk tissue.

Healthy root systems.

Regulates root zone temperatures.

Healthy full tree canopy.

Keep mowers and string trimmers away.

Improves moisture retention and reduces drought stress.

Promotes healthier soil biology in the critical root zone.
LET'S TALK TREES
We would love to chat about your trees and shrubs. Let us provide you with a free on-site estimate. Please fill out the form below and one of our specialists will contact you within 24 hours.
We take your personal information very seriously. We will not share any of the information you provide with any 3rd parties. Provided information will be used specifically to contact you in regards to Parshall Tree Care Experts opportunities.